I confess that I don't know why, but looking at the stars always makes me dream.

Vincent Van Gogh
Life trajectory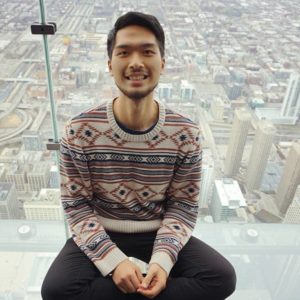 At the beginning of everything, I was born in Taipei, Taiwan. I spent some years growing up in China and my undergraduate at Fudan University, Shanghai. My major was in Theoretical and Applied Mechanics, which is really just a math major in disguise. I started to explore many dimensions of research there. You can learn in the past project section about my research on traffic flow modeling, high-performance fluid dynamics simulation. In 2015, I started my Master's study in Mechanical Engineering and Applied Mechanics at the University of Pennsylvania, Philadelphia.
In the summer of 2017, I fulfilled my mandatory military service by teaching English in a middle school in a rural county in Taiwan. Being away from research and surrounded by nature and aboriginal culture makes the year a unique experience in my lifetime. Seeing how science can excite and reach children even in the mountains of Taiwan, I decided to dedicate the rest of my life to research that can not only create knowledge for technology advancement but also excite, educate and inspire the general public.
Since fall 2018, I have studied in Dr. David Hu's lab at Georgia Tech for my Ph.D. degree. It is here where I found my love for fire ants and biophysics. I am so hungry to learn more about both biology and physics that I didn't know about. I am excited about what I can do to bring knowledge in biology and physics through my project. I hope I can continue to make exciting discoveries to excite people!
Publications
Conference Presentations
Ko, H., Hadgu, M., Hu, D.L., Fire ant rafts are unstable. The 15th international symposium on distributed autonomous robotic systems (DARS) & The 4th international symposium on swarm behavior and bio-inspired robotics (SWARM), Virtual, June 1-4, 2021
Ko, H., Shishkov, O., Hu, D.L., Goldman, D.I., Simulating fluidization of black soldier larvae. American Physical Society's Division of Fluid Dynamics Annual Meeting (DFD), Virtual, Nov 21-23, 2020
Komilian, K., Ko, H., Waters, J., Hu, D.L., Metabolism of small groups of fire ant workers scale isometrically, Society for Integrative and Comparative Biology National Meeting (SICB), Virtual, Jan 3 – Feb. 28, 2021
Ko, H., Shishkov, O., Hu, D.L., Goldman, D.I., Simulating fluidization of black soldier larvae. American Physical Society's Division of Fluid Dynamics Annual Meeting (DFD), Virtual, Nov 21-23, 2020
Yu, T., Ko, H., Hu, D.L., Fire Ants Rafts Deform Under Uniform Flow, Society for Integrative and Comparative Biology Regional Meeting (rSICB), Virtual, Nov 13, 2020
Puhalla, S., Ko, H., Hu, D.L., Collective movement of fire ant under various temperature environments, Society for Integrative and Comparative Biology Regional Meeting (rSICB), Virtual, Nov 13, 2020
Roe, K., Ko, H., Hu, D.L., Dynamics of suspended ants, Society for Integrative and Comparative Biology Regional Meeting (rSICB), Virtual, Nov 13, 2020
Komilian, K., Ko, H., Hu, D.L., Metabolism of small groups of fire ant workers scale isometrically, Society for Integrative and Comparative Biology Regional Meeting (rSICB), Virtual, Nov 13, 2020
Ko, H., Yu, T., Hu, D.L., Streamlining in fire ant rafts (invited flash talk). IEEE International Conference on Intelligence Robots and Systems (IROS) Workshop on Robotics-Inspired Biology, Virtual, Oct 25, 2020
Ko, H., Shishkov, O., Hu, D.L., Goldman, D.I., Fluidization of black soldier fly larvae collective. Southeast Soft Matter Symposium, Virtual, Aug 27-28, 2020
Ko, H., Hu, D.L, Brownian motion of fire ants hinders raft formation. American Physical Society Annual March Meeting (APS), Virtual, March 3, 2020
Ko, H., Hu, D.L, Spinning shrinking fire ant raft. American Physical Society's Division of Fluid Dynamics Annual Meeting (DFD), Seattle, WA, November 23-26, 2019
Puhalla. S., Ko, H., Hu D.L., Stimulating fire ant aggregation, Society for Integrative and Comparative Biology Regional Meeting (rSICB), Winston-Salem, NC, October 26th, 2019
Morris, J., Ko, H., Hu D.L., Fire ant rafts deform under uniform flow, Society for Integrative and Comparative Biology Regional Meeting (rSICB), Winston-Salem, NC, October 26th, 2019
Ko, H., Hu D.L., Random walk of fire ants on the water surface, Society for Integrative and Comparative Biology Regional Meeting (rSICB), Winston-Salem, NC, October 26th, 2019
Ko, H., Hu, D.L, Fire ant raft shrinks due to fluid shear. International meeting of Physics of Living System (IPoLS), Munich, Germany, July 8-11, 2019
Ko, H., Hu D.L. The Physics of tossing fried rice. American Physical Society's Division of Fluid Dynamics Annual Meeting (DFD), Atlanta, GA, November 18-20, 2018
Honors & Scholarship
CIRTL (Center for the Integration of Research, Teaching & Learning) Associate Certificate
2019-2020 Center of Science and Technology of Advanced Material Interface (STAMI) Scientific Travel Award
2019 Student Graduate Association (GSA) Conference Fund
2016 MEAM MSE Merit Scholarship (UPenn, 4 out of the master students, class of 2017)
Stars of the Undergraduate Class 2015 (Fudan Univ., 10 out of students across all departments)
Hui-Chun Chin and Tsung-Dao Lee Chinese Undergraduate Research Endowment (Mar. 2014—Jun. 2015)
Baosteel's First Prize for Outstanding Students from Taiwan (2013-2014 academic year)
First Prize for Outstanding Students from Taiwan (2011-2012 & 2012-2013 academic year)
Japanese-Language Proficiency Test Level N1 (the highest)
Graduate Level Courses
Foundations of Engineering Math I A+
Foundations of Engineering Math II A+
Computational Mechanics A+
Micro & Nano Fluidics A+
Electrochemistry A+
Design of Mechatronic Systems A
Advanced Fluid Mechanics A
Transport Process I A
Intro to Robotics A
Interfacial Phenomena A-
Wearable Robotics A
Thermodynamics A