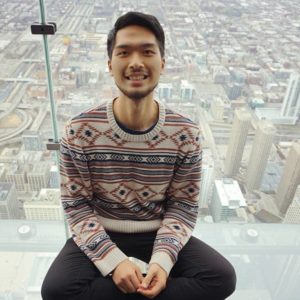 At the beginning of everything, I was born in Taipei, Taiwan. I spent some years growing up in China and my undergraduate at Fudan University, Shanghai. My major was in Theoretical and Applied Mechanics, which is really just a math major in disguise. I started to explore many dimensions of research there. You can learn in the past project section about my research on traffic flow modeling, high-performance fluid dynamics simulation. In  2015, I started my Master's study in Mechanical Engineering and Applied Mechanics at the University of Pennsylvania, Philadelphia.
In the summer of 2017, I decided to take a year off teaching English in a middle school in a rural county in Taiwan, which counted towards my civil duty of military service. Being away from research and surrounded in nature and aboriginal culture makes the year a very unique experience in my lifetime. Seeing how science can excite and reach children even in the mountains of Taiwan, I decided to dedicate the rest of my life in research that can not only create knowledge for the technology advancement, but also excite, educate and inspire the general public.
Since fall 2018, I have been studying in Dr. David Hu's lab at Georgia Tech for my Ph.D. degree. It is here where I found the love for fire ants and biophysics. I am so hungry to learn more about both biology and physics that I didn't know about. I am excited about what I can do to bring the knowledge in biology and physics through my project. I hope I can continue to make interesting discoveries to excite people!
Publications
Honors & Scholarship
2016 MEAM MSE Merit Scholarship (UPenn, 4 out of the master students, class of 2017)
Stars of the Graduates (Fudan Univ., 10 out of students from all schools, class of 2015)
Hui-Chun Chin and Tsung-Dao Lee Chinese Undergraduate Research Endowment (Mar. 2014—Jun. 2015)
Baosteel's First Prize for Outstanding Students from Taiwan (2013-2014 academic year)
First Prize for Outstanding Students from Taiwan (2011-2012 & 2012-2013 academic year)
Japanese-Language Proficiency Test Level N1 (the highest)
Graduate Level Courses
Foundations of Engineering Math I A+
Foundations of Engineering Math II A+
Computational Mechanics A+
Micro & Nano Fluidics A+
Electrochemistry A+
Design of Mechatronic Systems A
Advanced Fluid Mechanics A
Transport Process I A
Intro to Robotics A
Interfacial Phenomena A-
Wearable Robotics A
Thermodynamics A